Coming Spring/Summer 2018 to Downtown Westmont… GoPolar Cryotherapy & Float Spa!!!
230 N. Cass Avenue
Westmont, IL 60559
New Client Special $35.00
Full (3 minutes) Wholebody Cryotherapy Session + Free 30 min NormaTec Compression Session
Whole Body Cryotherapy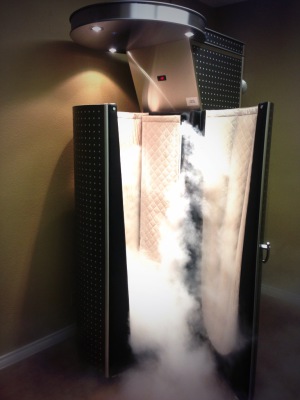 With facilities opening up all over the United States since 2004, GoPolar Cryotherapy is the first of its kind offering the most advanced cryotherapy equipment and is the first to be located in the southwest suburbs of Chicago.
GoPolar Cryotherapy is located at 238 Main St. Lemont, IL 60439.
GoPolar offers several services such as the Whole-Body Cryotherapy, Localized Cryotherapy and the in demand CryoFacial™. They are also an ONNIT Official Partner.
Cryotherapy is a growing form of therapy that is being utilized by many people from professional athletes such as Lebron James, Floyd Mayweather, Dwayne Wayde, soccer star Cristiano Ronaldo, UFC fighter Allan Jouban to wellness enthusiast as well as people suffering from inflammatory diseases. It is a safe, therapeutic and non-invasive process that reduces inflammation, promotes muscle recovery and rejuvenates the skin.
Whole Body Cryotherapy (WBC) was originally developed in Japan in 1978, and the benefits have been studied and refined in Europe since that time. Whole Body Cryotherapy is exposure to subzero temperatures (-200F to -260F). The client is placed into a cryogenic sauna for a short duration of 2-3 minutes, the extreme cold stimulates skin receptors, activating a Central Nervous System (CNS) response. This causes the release of endorphins, the body's natural pain inhibitors and mood elevators, while the enhanced circulation activity (blood movement into and out of the core) decreases inflammation by clearing toxins and metabolic waste with a supply of oxygen and nutrient enriched blood to stimulate cellular regeneration (faster healing).