Localized Cryotherapy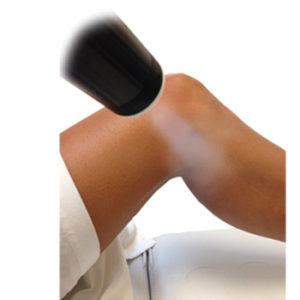 Localized Cryotherapy applications are used to reduce pain, inflammation, and swelling in targeted areas.  Unlike Whole Body Cryotherapy, which stimulates cold receptors all over the body in order to trigger an internal systemic anti-inflammatory response, local cryotherapy is comparable to "icing", although much more powerful and efficient based on our experience.  Clients frequently combine this application with Whole Body Cryotherapy, to treat problem areas both from the "inside out" as well as from the "outside in".  As temperatures as low as -240 degrees F can be reached by our devices,  a local area treatment only needs to be conducted for about 5-10 minutes, with a benefit exceeding that of hours of icing according to our clients.
Although whole-body cryotherapy has undisputed benefits, localized cryotherapy presents some distinct advantages if you are recovering from surgery or an injury. Some of the factors the pros consider when deciding between whole-body and localized therapy include:
Safety – Localized cryotherapy presents minimal risk to skin or other tissues. Because you are able to control the temperature of therapeutic cold and the amount of time it is applied, there is limited to no risk of frostbite or any other type of skin damage.
Comfort – Many patients are simply not comfortable standing in a freezing chamber. With Localized cryotherapy, the patient can sit comfortably while the machine does all the work healing the area of injury or pain.  We are able to do any area, head to toe.
Benefits – Many health benefits have been reported for patients who undergo whole-body cryotherapy, but when it comes to the treatment of injuries and post surgical recovery, localized cryotherapy is more effective because of the addition of active compression. The cold is applied for a longer period of time and therefore is able to penetrate deeper into the damaged tissues to help stimulate healing and repair.